Support and encouragement of the father in breastfeeding: bibliographic study
Abstract
The participation of the father in the breastfeeding must be culturally assimilated by health professionals and by the society. This is a bibliographical descriptive and documentary study, aims to present the theoretical production in relation to the father's involvement breastfeeding in and public policy. The collected data was from 1992 to 2006 and the sources for collection were LILACS; SCIELO; MEDLINE; ADOLEC and BDEN from the Health Virtual Library– BIREME in September 2007 with the keywords: Paternity, Breastfeeding and Public Policies. Among the 140 studies found, one, published in a international magazine recommended other directions in research and Public Policies to encourage the father's involvement. We  hope that this research offers reflections and changes in the practice of nurses to take care/care in maternal and child attention in which the father is included as a participant in breastfeeding and in the mother's and child care. Urge activities and publications to recognize the father in this process.
Keywords
Paternity, Breast Feeding; Public Policy
DOI:
https://doi.org/10.5935/1676-4285.20092100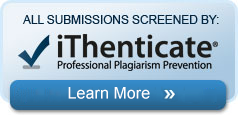 The articles published in Online Brazilian Journal of Nursing are indexed, classified, linked, or summarized by:
Affiliated to:
Sources of Support:
 Visit us:
The OBJN is linked also to the main Universities Libraries around the world.
Online Brazilian Journal of Nursing. ISSN: 1676-4285

This work is licensed under a Creative Commons:Noncommercial-No Derivative Works License.