Poverty, Health Iniquities, and Human Development: OBJN special number, Oct 2007
Abstract
Online Brazilian Journal of Nursing joins 120 science journals around the world in inviting submissions on the topic of Poverty, Health Iniquities and Human Development, to be published in a Global Theme Issue in October 2007, organized by the Council of Science Editors.


Keywords
Poverty; Health Iniquities; Human Development; Nursing
DOI:
https://doi.org/10.5935/1676-4285.2007790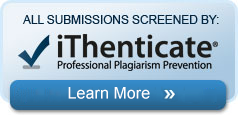 The articles published in Online Brazilian Journal of Nursing are indexed, classified, linked, or summarized by:
Affiliated to:
Sources of Support:
 Visit us:
The OBJN is linked also to the main Universities Libraries around the world.
Online Brazilian Journal of Nursing. ISSN: 1676-4285

This work is licensed under a Creative Commons:Noncommercial-No Derivative Works License.