Decoding the synthesis of evidence: concepts
Abstract
A  stage  considered  essential  to  the  implementation  of  the  practice informed  by  evidence  is  called  the  synthesis  of  evidence.  However,  its design  and implementation  is  still  far  from  researchers,  educational  institutions  and  research professionals,  etc.  In  order  to  facilitate  the  understanding  of  readers  on  the  subject, concatenating concepts and practice, are detailed below as the spring and summer OBJN editorials.  One  of  the  most  accepted  ways  to  develop  the  synthesis of  science  is  the systematic  review  of  the  literature  (SLR).  The  explicit,  systematic  and  reproducible methods  used  in  the  SLR  aim  to  minimize  different  types  of  bias,  including  critical evaluation of the quality of the studies that meet the inclusion criteria of the review in question.  When  the  evidence  produced  generates  recommendations  for  practice  and policy, the inclusion of low-quality evidence at high risk of bias is problematic.
Keywords
Internacionalization; Committee on Publication Ethics; Publishing Quality
DOI:
https://doi.org/10.17665/1676-4285.20165169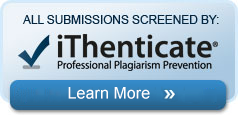 The articles published in Online Brazilian Journal of Nursing are indexed, classified, linked, or summarized by:
Affiliated to:
Sources of Support:
 Visit us:
The OBJN is linked also to the main Universities Libraries around the world.
Online Brazilian Journal of Nursing. ISSN: 1676-4285

This work is licensed under a Creative Commons:Noncommercial-No Derivative Works License.