Peer review: what are the OBJN responsabilities?

Revisão por pares: quais são as responsabilidades do OBJN?

Profª Drª Isabel C.F. da Cruz*

*Editora do Online braz j of nurs; Coordenadora do Programa de Mestrado Profissional Enfermagem Assistencial, UFF, RJ, Brasil.

Abstract: As other scientific journals, the Online braz j of nurs is a vehicle to exchange knowledge and scientific information within the scientific and professional community. But this task can be accomplished only after the peer-review select the papers and improve their qualities.

Keywords: peer-review, research; publishing; journalism

Resumo: O Online braz j of nurs é um veículo de intercâmbio de conhecimento e insformação científica e para o cumprimento desta missão depende da revisão por pares que seleciona os artigos e melhora sua qualidade.

Palavras-chave: revisão por pares; publicação; jornalismo

No último número de cada ano, o OBJN (Online braz j of nurs) publica um agradecimento aos revisores que ao longo daquele ano analisaram os manuscritos submetidos. Todavia, esta expressão pública de reconhecimento, não é capaz de traduzir para os leitores e autores de um periódico científico o que realmente representa um revisor para o trabalho do editor.

Neste editorial, trataremos sobre algumas responsabilidades da editoria do OBJN em relação ao trabalho de revisão de um manuscrito por pares.

Há um extensa literatura científica sobre revisão por pares, aasim como uma consolidade linha de pesquisa sobre este tema. Tanto que a editoria do OBJN conquistou uma bolsa para participar de um congresso internacional sobre Revisão por Pares<![if !supportFootnotes]>[1]<![endif]> e assim aprender sobre as competências que um revisor deve apresentar.

Contudo, à frente da editoria do OBJN, percebi que o periódico científico deve ter um papel mais ativo na capacitação do revisor de manuscritos científicos, diante dos problemas ou dificuldades que surgiram no decorrer do processo editorial.

Ao menos um periódico científico, tal como o OBJN, tem duas grandes responsabilidades de quanto à revisão por pares:

o selecionar profissionais com expertise na área, explicitar a política editorial para o revisor (cortesia para com o autor, pontualidade quanto ao parecer, aprimoramento do manuscrito, sigilo, etc),

o orientar quanto ao tipo de análise que interessa ao periódico (a relevância do problema/pergunta da pesquisa, a contribuição única da pesquisa, a validade da pesquisa, os aspectos éticos da pesquisa, a apresentação dos resultados, a qualidade da discussão dos resultados, a coerência das conclusões e sugestões, assim como suas impressões sobre o manuscrito em relação a plagiarismo, publicação repetida, etc)

A editoria do OBJN decidiu aasumir mais uma responsabilidade:

o recrutar revisores entre os/as doutorandos/as de enfermagem e ciências correlatas de modo a contribuir efetivamente na formação de pesquisadores/as.

A revisão de um manuscrito para um periódico científico é não só parte do trabalho de uma/a pesquisador/a como também parte do processo de produção (colaboração comcríticas, comentários, literatura complementar, etc) e de divulgação científica (primeiro reconhecimento do relatório científico).

O Online Brazilian Journal of Nursing tem experiência acumulada na área de divulgação científica e, conforma atesta a pesquisa<![if !supportFootnotes]>[2]<![endif]>, é um espaço (real e virtual) privilegiado de treinamento em pesquisa.


Referência:

Ogum protects the roads and the internet is a virtual road. Ogum is also the god of technology.
He used the iron to create the instruments that help people to work for a better life and to build a better world. He is with us since the beginning.I pray to him to be with us always. Ogunhê!
Imagem: http://www.pallaseditora.com.br/ Bianca Earp

Dezembro é o mês de celebração das Iabás! Maternidade, nascimento, maternagem, acolhimento: sejam os sentimentos predominantes em 2007!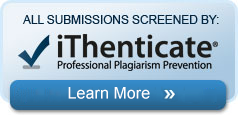 The articles published in Online Brazilian Journal of Nursing are indexed, classified, linked, or summarized by:
Affiliated to:
Sources of Support:
 Visit us:
The OBJN is linked also to the main Universities Libraries around the world.
Online Brazilian Journal of Nursing. ISSN: 1676-4285

This work is licensed under a Creative Commons:Noncommercial-No Derivative Works License.