Pesquisa do Programa de Mestrado Enfermagem Assistencial é premiada no II Encontro Nacional de Pesquisa em Estomaterapia


Mestranda Vera Perissé


A enfermeira Vera Lucia de Castro Perissé , aluna do curso de Mestrado Profissional Enfermagem Assistencial da Universidade Federal Fluminense (UFF), recebeu o prêmio de melhor trabalho no evento cientifico II Encontro Nacional de Pesquisa em Estomaterapia promovido pela Sociedade Brasileira de Estomaterapia (SOBEST) com o trabalho - Refletindo sobre Estratégias educacionais para famílias de clientes com gastrotomia orientado pela Drª Fátima Helena do Espírito Santo, que foi apresentado no dia 25 de maio durante o evento que aconteceu na cidade de São Paulo – SP.




O estudo, parte do projeto de dissertação, apresenta uma reflexão teórica sobre as estratégias educacionais que o enfermeiro pode utilizar para orientar a família no cuidado aos clientes com gastrostomia no domicilio

O estudo indica que os principais problemas com esses clientes, decorre da falta de conhecimento sobre seu estado de saúde e dos procedimentos aos quais serão submetidos o que reforça a importância do enfermeiro elaborar e aplicar estratégias de ensino adequadas as necessidades da família para melhorar a qualidade de vida dos clientes gastrostomizados no ambiente domiciliar.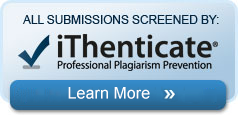 The articles published in Online Brazilian Journal of Nursing are indexed, classified, linked, or summarized by:
Affiliated to:
Sources of Support:
 Visit us:
The OBJN is linked also to the main Universities Libraries around the world.
Online Brazilian Journal of Nursing. ISSN: 1676-4285

This work is licensed under a Creative Commons:Noncommercial-No Derivative Works License.